Let's get some serious chic up in here, as we celebrate Easter and the weekend at THE EDGE.
From Tina Fey's book, Tim Hamilton doing Bergdorf Goodman great to DETAILS' weatherproof jackets and more, welcome to THE EDGE's list for the Weekend.
The sexy Tina Fey for GQ
L
ady's on a roll: from doing really funny movies (
Mean Girls)
to silverscreen hits (
30 Rock)
the mother and all-time funny woman of our generation, Tina Fey has got her book
Bossypants
out on the shelves. It won't take long, trust me, before this one hits the top selling list. Check out her GQ interview (linked above) and what she has to say about blondes. Seriously, we need us lots of Tina Fey in our lives.
M
aybe it's time I trade up my dependable gray hoodie for some awesome color for my post-run walks? Yes, right?
DETAILS magazine (via
Valetmag
) gives you 5 options for every workout: sailing, running, cycling, hiking and even for those city walks during trying rainy days. Most of which are in really sporty colors like an aqua Burberry sailing jacket or this bright yellow running piece from Asics, the idea is to manage a chic weatherproof cover up and a trusty jacket that fits your activities.
Start hunting your favorite stores now for one you'd be using most definitely even after a hundred workouts.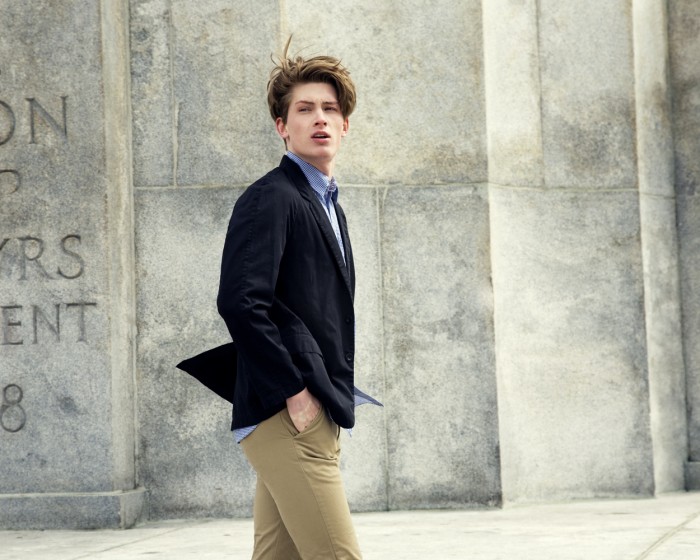 Pavel Baranov for Tim Hamilton + Bergdorf Goodman @models.com
T
he collaboration between two big stylish names, Tim Hamilton and Bergdorf Goodman, is a class act. Period. Tim Hamilton gives his old collection for the brand a refresh, using new fabrics in constructing old favorites like blazers, khaki trousers, button down shirts and sweaters. This maybe a capsule collection of basics, but the idea behind it will definitely last you until it fits. Clothes this stripped down, basic and elegant has been tested so go ahead and start on your purchase.
+ TRAVELING, BOTTEGA VENETA STYLE
D
irector Christian Weber collaborates with Bottega Veneta for a short film entitled "Viaggio Notturno" which loosely translates to, a journey in music, something like that. It is however notable that while the music for this short film is spectacular, there are some pretty off parts in the film (like this "facial mask" part that I find a little awkward). But knowing that this is a Bottega Veneta film--- the brand known for excellent quality everything, the short film was genius. It was memorable and the pieces you'd see makes you want to spend your life away just purchasing them. Terron Wood does a great job opposite his female model (whom I still have to research) and just everything looks impeccable, from the bags to the eyepatches to the smoke dancing for the beginning and the end. Traveling Bottega style sure is worth a short film I must say.
V

aletmag
's latest post shows you a range of awesome, candy-colored shorts to choose from for your beach trips (soon and in the future). All of them, made by Olasul, a Peruvian-blooded label that is all about Peru's surfing culture. Give your Speedos and Billabongs and those other surfing goods some rest and try these ones on for size. The colors are great, the prices are fair and the designs are cool. I say go buy now!
- Gerard