NYFW REVIEWS
SPRING 2012
+ MORE
This weekend, THE EDGE gives you some of New York Fashion Week's collections in the most comprehensible reviews. Also, ESQUIRE Philippines, the world's (new) number one male model and why everyone's Stoned on Lara...
Welcome to the weekend gents!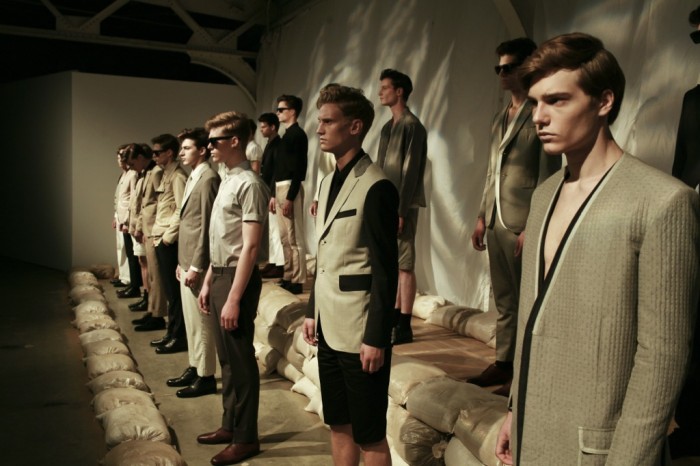 >>> THE REVIEWS:
+ Native Son
WHY YOU SHOULD CARE: Native Son's Spring 2012 outing is all sandblast and industrial on the color department, hues sure to work with every kind of guy out there. Patches are big here, pretty much everywhere actually, and the neutral on neutral pairings on suits, cardigans and trousers look clean and studied---in a good way. Shrunken suits and oddly chic trousers aren't for everyone, but if you're into the slightly undone yet well put-together look, Native Son's gonna do you great.
WHO WEARS IT BEST: The skinny dudes smoking reds backstage who look great in basically everything (but look best in Native Son's pieces)...In short, them models.
THE SCORE: 7.5 out of 10. Maybe not for me, but the colors and the styling is spot on.
WHY YOU SHOULD CARE: Carlos Campos's Spring 2012 collection is fresh. There is nothing heavy or impulsive or irritating about the pieces he's created and I believe Spring should look like this. Wrinkled jackets, Japanese-style shirts, loose trousers and a color wheel of the lightest and coolest hues you could imagine, it's a masterpiece of a collection really. For me, this one ranks high on my list, along with Ermenegildo Zegna for Spring 2012.
WHO WEARS IT BEST: I'm seeing Gabriel Aubrey here. He'll definitely make a wonderful model for the campaign. So, if you look like him, go knock yourself out. If you don't look like him, don't worry, you'd still pull these ones off...Only with Aubrey, it looks stellar.
THE SCORE: 10. Hands-down.
+ Michael Bastian
WHY YOU SHOULD CARE: Michael Bastian's expertise in American style comes full circle in this collection. It's all sporty, loungey, dressy and practically All-American, that every guy aiming for style and comfort won't be disappointed. This, I believe is the manual to all of America's fashion inspirations and icons and while there are lots of hits here, misses come in the form of the most obvious: some of us may be too tired of this look. Then again, what's worth resurrecting only means it's worth wearing even when they're not on the runways. I'm saying it, again, American style's a keeper.
WHO WEARS IT BEST: I think everyone would look great in these clothes, reason why I like them. It's a plus if you could carry those glasses. But you'd do great without them too.
THE SCORE: I may still feel a little 50/50 on this one, the saving graces here are on Cory Bond and that patched rain jacket, so it's an 8 over 10.
+ Patrik Ervell
WHY YOU SHOULD CARE: Not just cause it's Patrik Ervell but also because while we're still pretty much into baseball jackets, Ervell's got you covered with the best for Spring. And also, while painted, printed shirts are making colorful parades for Spring 2012, here at Ervell's they're most sublime. It's a winning combination of masculine cool and the artistic that demands of your attention. You won't be disappointed.
WHO WEARS IT BEST: If you could pull off the water color shirts here just like the models (and not be ridiculed for it), then you wear it best. The jackets and suits here are forgiving and chic, so no worries.
THE SCORE: 8 out of 10. Some pieces, I've seen before.
WHY YOU SHOULD CARE: No non-sense collections always work and Yigal Azrouel's one of them. What I love about Yigal Azrouel for Spring is the mood it paints: coolly aggressive, sporty, guarded yet laid-back. Colors are easy on the eyes and easy to mix with your wardrobe, even with the slight kicks of reds and blues prove wearable with almost anything. And speaking of wearable, there isn't a thing here that fails, so even drawstring trousers you'll usually save for lazy days are good to go anytime.
WHO WEARS IT BEST: The younger gents for sure would enjoy these looks. But maybe there are some older men who could pull these off with ease (and I'm thinking of the Wooster).
THE SCORE: 9 out of 10. The two-toned suits and the leather straps hanging from single-buttoned jackets already score high, and the other looks too are awfully cool.
WHY YOU SHOULD CARE: Aside from the pretty obvious no-fail style J. Crew's known for, they have colors here that manage a balance between the hyper and sporty and the calm and cool. Styling emphasizes a masculine ease that's been a big hit with the style disciples lately and it's no wonder why J. Crew's recent rebirth won them, possibly, millions more of admirers.
WHO WEARS IT BEST: If they have these looks that could fit a five year old and a 75 year old, then J. Crew's no work of man, but of God himself. (They're for everyone, really)
THE SCORE: 9 out of 10. Just cause there isn't so much newness to it. But if they presented something different, J. Crew'd get a perfect score.
>>> THE READ: Esquire Philippines
The much-talked about magazine franchise is finally here. Summit media presents the premiere issue of Esquire Philippines, featuring a groomed boxing champ Manny Pacquiao on the cover. The look of the magazine is typical Esquire, but knowing how we are (Filipinos), this'll start looking pretty Pinoy soon (that could work both ways, but I know it's gonna be good). Well, it seems like Philippine newsstands have another heavy weight read worth its money to come every month, and I'm more than excited how Philippine Esquire will turn out in the coming months and years.
>>> THE MODEL: Sean O'pry
O'pry for a fitting. Presented by models.com
@Salt
Finally, Sean O'pry lands a much-deserved spot as MDC's Number One male model. From campaigns like Versace to walking the shows for Spring 2012 to simply being this painfully good-looking, Sean has stood for what's young, cool and most of all, what a handsome face could achieve in the world of fashion. Check out more of his photos on my other blog, Salt.
The New York Times Style Magazine, Lara Stone on the cover
@models.com
Also the world's number one, female model, Calvin Klein face, wife and all-round super babe Lara Stone is on the cover of every imaginable magazine this month. From British GQ's Woman of the Year award to Japanese VOGUE and also i-D (not to mention an almost naked video for
GQ
) , Lara Stone's trademark lips, gap-toothed grin and those deadly eyes, is now defining the look, mood and what's sexy of our times. The ladies love her, the men would kill for her, it's solved, Lara's got everyone Stoned indeed.
- Gerard